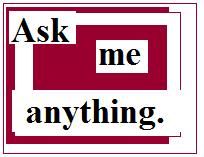 I'm starting a new feature here on Practically Intuitive called "Ask an intuitive" and here's what it's all about:
** Might there be something in your life where you can use a bit of guidance from the Universe?
** Do you have a question about how this intuitive stuff all works?
** Want to know the winning lottery numbers for tomorrow? (hah  I wish! We'd all be rich!)
Well, here's your chance to ask me any question (just one, please) and I'll answer with whatever quick intuitive insights I get right below.  You can share as much or as little detail about your question as you feel comfortable given that both the question and the response are public.
I'm hoping to make this a regular feature if people are interested in it.  I love the idea of doing little quickies like this as a way to thank you guys for reading and following along.
Oh, and have you signed up for my monthly newsletter yet? It's a bit late for this month so I'm doing something extra special – one subscriber drawn at random will win a free email reading (a $75 value).  What are you waiting for? *YOU* could be the lucky winner!  Sign up over there at the top right and join in the fun.   (And I promise not to send you a bizillion emails – just one a month with an extra thrown in now and again when I've got something really cool to offer.)
Let's get to the questions – tossing the ball over to you.  Ask me anything!
(Edited to add:  Great response, you guys! Thanks so much for being willing to put yourself out there.  I'm going to keep comments open until Thursday at midnight so people have a chance to get their questions in.)