Back in October, I started a feature called "Ask an Intuitive" where you could ask me a question you had on your mind and I'd share what came to me intuitively about it. I'm happy to say it was a big hit and so it's time for another round!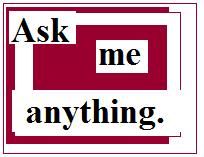 Okay, here's how we play: You ask a question in the comment box below. Feel free to share as much or as little detail about your question as you feel comfortable given that both the question and the response are public. I'll post what insight I get about the question right below it.
See? Easy peasy, eh?
Okay, who wants to be first??
ON EDIT: You guys are awesome!!  Thank you all so much for being willing to put yourself out there.  It's been a blast fielding the questions and seeing what comes through.

If you're new here, please join up my monthly newsletter list – I won't spam you and send out a thousand emails.  Just 473 a month! (ha! that's a joke)  I love my email list peeps and offer specials and drawings, first opportunities at new promotions and all kinds of goodies that I don't advertise anywhere else.   You can sign up right there at the top right of the page.  To those who have already done so, you're the best!

I'll be closing comments Thursday evening at 10pm (eastern) so if you want to ask something, jump on in!

COMMENTS ARE NOW CLOSED!  Thanks so much for putting yourselves out there and asking.  Look for Round 3 of AAI coming in January!